Apple Cider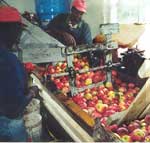 Apple cider is a great way to enjoy apples. A glass of cold, delicious cider is one of the best tastes in the world. Cider is made of crushed and pressed apples. Many apple orchards make their own cider, and there seems to be as many kinds of cider presses as there are orchards.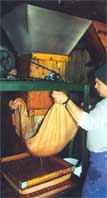 The first step in making cider is to wash the apples. The first picture shows apples being washed at Honey-Pot Hill Orchard. The next step is to crush apples. Apples are carried by conveyer up to the crusher. On the left, you see Derby Orchard's crusher in operation. Crushed apples are dropped into a square frame for pressing.
Finally, the apples are pressed and the cider runs free. At Derby, each frame shown here on the left presses a bushel of apples at a time. Each bushel produces a gallon of cider.

In contrast, the heavy-duty accordion press at Carver Orchard, shown on the right, closes horizontally to produce up to 600 gallons per hour.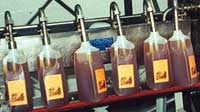 Finally, the cider is bottled and ready to sell. These Honey-Pot Hill bottles will be sold right at the orchard. Carver Orchard, with a larger operation, can fill 1200 gallons per hour using an old 1930's machine for bottling milk.