Pumpkins Too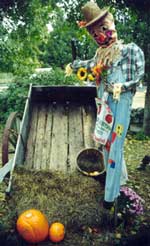 Pumpkins are everywhere in the autumn in Massachusetts. Most apple orchards also offer pumpkins in all shapes and sizes. Many orchards also grow their own pumpkins. Ever wonder how to grow those giant 100 lb pumpkins? Here's some tips.
Soil preparation is the most important factor. After testing and adjusting soil use large quantity of partially decomposed compost. Start seeds in pots early to provide for the longest growing season. Move seedling to warm outside soil and temperatures 65°F or provide mini-greenhouse.
Fertilize, first with higher phosphorus for roots, later with balanced fertilizer. Water frequently, fortifying with liquid fertilizer. Growing pumpkins requires gallons of water. After pumpkins start growing, limit vines to one or two. Be ready to adjust vine positions as pumpkins grow larger Make sure pumpkins get as much sun as possible.