Four Seasons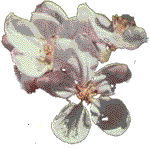 Every season is different in the apple orchard. In spring, the trees burst into bloom. Bees are essential to pollinate the trees. Many apple growers rent bees to do the job.
In summer, the battle is on to compete with the insects that would like to eat up the crop. Spraying can control the pests. But many apple growers use Integrated Pest Management to control pests naturally. In addition, the fields must be mowed.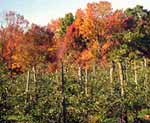 Fall is the most busy time when apples ripen and are ready to harvest. In Massachusetts, finding people to do the work is a problem, and often the apple pickers come from far-off places. New, young trees are planted and staked to stand up straight.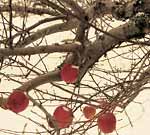 In the winter, a few apples cling to the trees, red against the snow. Orchard workers tromp through the snow to prune the trees, and then try to take a well-earned rest.