Apple Pie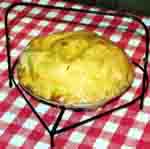 There are many ways to bake an apple pie, and sometimes strong feelings about which is the right way. Should it have a top crust, or a cinnamon nutmeg topping? How much sugar? What's too sweet for some is still sour to others. Some recipes load up on butter and pour some cream into the crust too.
Another important question is what kind of apples to use. Look for apples that will retain some texture when cooked. Tart apples that may not be eating favorites will give character to the pie. Baldwin apples are a little tart and hard for eating but make excellent pie. Some of the best apples for cooking are Cortland, MacIntosh, Gravenstein, Empire, Macoun, Jonagold, Spencer, Northern Spy, and Winesap.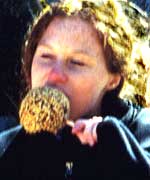 Here's a basic recipe from Honey Pot Hill Orchard in Stow.

Make pastry for a 2-crust, 9-inch pie. Roll out half of pastry and fit into bottom of pie plate.
7 cups peeled, cored sliced apples (about 2 lbs)
1/2 to 1 cup sugar (Cortlands need 1/2 cup, tart apples need more)
1/2 teaspoon cinnamon
1/4 teaspoon nutmeg
1 tablespoon butter, cut into small pieces
Mix together the apples, sugar, and spices. Spoon into pie shell, dot apples with butter. Roll out top crust and cover pie, sealing carefully, cut steam vents. Bake at 425 for about 50 minutes until crust is browned and apples soft.
A simpler way to adorn apples is the candied apple, covered with caramel and chopped peanuts. Some shudder at the sweetness and how the caramel would stick to the teeth, but for others the contrast of tastes is a treat.