Beaches
Beaches are what brings many people to the Cape. This picture illustrates the flat beaches on Cape Cod Bay in Brewster and Orleans. A visit to a beach can be combined with a walk, a bicycle ride, some boating, or sightseeing.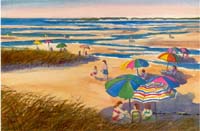 CapeGuide has a list of Cape beaches with directions. Another list is at SunSol. The list at Cape Cod Recreation includes many ponds. Parking restrictions can plague the casual beachgoer. Some towns require you to buy a parking sticker ahead of time. A good way to get free entry is on your bicycle.
The Cape has a variety of beaches for different kinds of fun.
---


Intro | Tours | Maps | Restaurants
Walking | Bicycling | Boating | Sightseeing | Beaches
Brewster | Chatham | Orleans | Eastham | Wellfleet | Truro | Provincetown
---
[ Anne's Home Page ]