Bicycling
The Cape has several paved bicycling trails that are remarkably uncrowded. When you tire of the trails, take out the map and make your own ride. If you don't have a bicycle, you can rent one at many locations.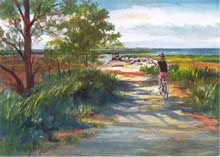 Short Bike Rides by Edwin Mullen and Jane Griffith, published by the Globe Pequot Press describes 26 bicycle rides on the Cape mainland. It has maps and it's small enough to fit in your bicycle basket.
The Cape Cod Bike Book web site gives an overview of bicycling trails, and tells you how to get the book by William E. Peace. This site has a good list of bicycle shops that rent bicycles. Two convenient places to rent bicycles are "Little Capistrano" (255-6515) near the rail trail and Salt Pond Visitor Center in Eastham, and "Idle Times"(896-9242) near the rail trail and Nickerson Park in Brewster.
The Cape Cod Rail Trail goes from Dennis to Wellfleet. From Orleans to Wellfleet, the trail is fairly new, very flat, very smooth, and largely in the sun. From Dennis to Orleans, the trail is old and a little bumpy, fairly flat, and largely under shady trees. There's a gap in Dennis and in Orleans where you have to ride a ways on streets. Many maps show the rail trail, and the National Seashore and Nickerson State Park have good maps of the trail.
The National Seashore Visitor Centers at Eastham and the Province Lands both have excellent bicycle trails. Nickerson State Park in Brewster has bicycle trails. A short bike trail is at Head of the Meadows in Truro.
---


Intro | Tours | Maps | Restaurants
Walking | Bicycling | Boating | Sightseeing | Beaches
Brewster | Chatham | Orleans | Eastham | Wellfleet | Truro | Provincetown
---
[ Anne's Home Page ]