Orleans
Orleans has shoreline facing a variety of waters. The activities Around Nauset include Nauset Beach facing right onto the Atlantic, as well as protected Town Cove at the end of Nauset Marsh. On the Cape Cod Bay side are Rock Harbor and Skaket Beach. Moving toward South Orleans, several trails and town landings open onto Pleasant Bay.

See the Orleans overview and Chamber of Commerce sites, and check out Orleans restaurants.

Jonathan Young Windmill Park
at Town Cove
Around Nauset
Jonathan Young Windmill Park
Restored and maintained by the Orleans Historical Society, the windmill is all set up to grind corn. Every day from June to September, a volunteer will guide you through the mill and explain its history and operation. The park around the mill is a nice place to relax and watch the sailboats in Town Cove. Located at Rte 28 and 6A.
You can walk to the nearby Orleans Inn and have lunch on the deck or by the picture window looking out onto Town Cove. Interesting nearby stores to browse in are the Goose Hummock Shop next to the Inn, and the Birdwatchers' General Store, 36 Rte 6A. Combine this excursion with a cruise of Nauset Marsh.
Nauset Marsh Cruise
Nauset Marsh covers a large inlet between Orleans and Eastham. Orleans Town Cove is at the inner reaches of the marsh to the south. Wellfleet Bay Wildlife Sanctuary sponsors a cruise of Nauset Marsh in a pontoon boat, leaving from Town Cove. The boat silently sneaks up on one of the largest tern colonies in Massachusetts, and the tales of the birds' migrations will fascinate and amaze. Sliding through the channels between the mazes of marsh grass to the outer beaches is a wonderful way to spend a summer afternoon.
The French Cable Museum
Having a husband with a radio hobby led me to spend an afternoon at the French Cable Museum. It was really quite interesting. A knowledgeable volunteer showed us around and then we were left to browse the plethora of artifacts. At Cove Rd and Rte 128, 255-0343
Nauset Beach
Nauset Beach faces east toward the Atlantic Ocean. The water is cold and the waves are high. It's what most people think of when you say "beach". Follow Main St until it becomes Beach St and go to the end. Nauset Beach extends as a long sandy penninsula south to Chatham, and forms the barrier that protects Pleasant Bay. To drive down the beach, you need a permit from the town and a vehicle that won't get stuck in the sand.. Returning from Nauset Beach, we like to stop at Kadee's Clam Bar for a snack of strawberry champagne drinks with rawbar oysters and littleneck clams.
Bicycling Tonset
Looking at a map of all Orleans' harbors, coves, marshes, bays, and inlets, it's clear there must be many water scenes to view by bicycle. The Tonset area above Nauset Beach offers glimpses of Town Cove and Nauset Marsh as well as several town landings that take you right to the water. If you're inclined to take a swim, the salt water is warm and protected. It's a residential area with minimal traffic. Looking at a map, go out Tonset Road and Brick Hill Road, and then explore all the smaller roads that lead to water.
Around Cape Cod Bay and Rock Harbor
Rock Harbor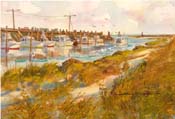 Rock Harbor fishing port on Cape Cod Bay seems oblivious to the tourists (although it may be a special place for the sports fishing tourist). That fresh seafood coming in on the boats hurries right into Capt'n Cass's kitchen in Rock Harbor. It's the freshest and most tasty, and the best value for seafood lunches and dinners. I saw a reference to a beach at the harbor -- if you can find it, you would probably have it to yourself. The harbor is located at the end of Rock Harbor Road.
Skaket Beach Sunsets
Skaket Beach on Cape Cod Bay is east ofRock Harbor, but you get there by following Skaket Beach Road. This is my favorite place to watch a sunset. Check the tide chart and plan for an evening when the tide will be at its lowest at sunset. The long flat beach gets a pattern of tidal pools that reflect the colors from the sky. Get a few walkers in the picture, and it calls out for your camera. There's even a tower to climb to improve your view. It's hard to choose whether to walk way way out in bare feet toward the setting sun, or stay on the tower and take pictures.
Rail Trail Gap
The rail trail has a gap in Orleans. Coming from Brewster, the trail ends at Main St and Old Colony Way. The recommended bicycle route takes you down Rock Harbor Rd to the harbor and then continues on Rock Harbor Rd to rejoin the trail.
Around Pleasant Bay
Kent's Point on Pleasant Bay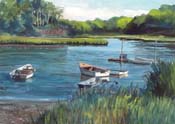 Kent's Point is at the upper reaches of Little Pleasant Bay where it narrows and they call it "The River". The town of Orleans recently acquired it as conservation land. Trails take you around the edges of the point for wonderful views of the bay's natural beauty. In at least one place you could take a swim in the warm salt water if you can brave a little salt grass muck. The National Seashore conducts a tour of Kent's Point. From Monument Road, follow signs to Kent's Point starting at Frost Fish Lane.
Sailing Lessons at Arey's Pond
In the same neighborhood, down Arey's Lane from Rte 28, Arey's Pond shelters many boats in salt water. This too is part of Little Pleasant Bay, up "The River" to "Namequoit River" which leads to the pond. Arey's Pond Boatyard builds sailboats and can answer just about any boating questions. I took a week of sailing lessons at Arey's, which was fun and taught me a lot about sailing and Pleasant Bay.
Pah Wah Point on Pleasant Bay
I seldom see another person in these twelve acres of town conservation land in South Orleans. There's a trail with markers and a brochure expaining the natural history points. The trail leads to a picnic table in a lovely setting looking onto Pleasant Bay and a marshy beach that you can have to yourself. The water is warm and sheltered. At the end of Namequoit Road, off Rte 28.
Bicycling Monument St and South Orleans
The area along Little Pleasant Bay from Monument Street to South Orleans is challenging, but takes you to idyllic points along the water. The game is to find backroads that avoid Rte 28, a horrible place for bicycles. This requires a street map. Starting from Main St, follow Monument Rd. Ride out to see Kent's Point and back, then follow Kescayoganset Rd to Arey's Lane. A dirt road takes you around Pilgrim Lake to Arey's Pond. Then, the only way to get to Namequoit is very carefully for a quarter mile on Rte 28. Namequoit goes to Paw Wah Point, and Heritage Drive takes you to Portanimicut, which connects to Quanset. The town landing at the end of Portanimicut looks out onto Little Pleasant Bay, while the scene at the end of Quanset looks south toward Chatham across big Pleasant Bay. All the return trips strengthen your legs with big climbs.
---


Intro | Tours | Maps | Restaurants
Walking | Bicycling | Boating | Sightseeing | Beaches
Brewster | Chatham | Orleans | Eastham | Wellfleet | Truro | Provincetown
---
[ Anne's Home Page ]