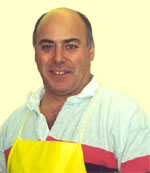 Quarterdeck is making exciting design and menu changes to the restaurant and the fish market. We would very much like to know how to bring you, our customers, the best service and quality possible. We would like your comments about Quarterdeck.
Would you like additional services in either the market or restaurant? Different menu items? What do you think of our products, personnel, service? Please "tell it to the boss" by sending your comments to chrisb@quarterdeckfish.com .
You can make a difference for us as we embark on our renovations. We count on you for inspiration. I look forward to hearing from you. We look forward to making 2003 a banner year for Quarterdeck Fish Market & Restaurant.