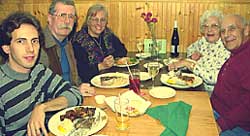 The Quarterdeck Restaurant serves high quality, fresh seafood, perfectly cooked. Owner Chris Basile oversees the kitchen along with Thai chef Narong. Chris trains all the kitchen and dining room staff, and many have been at the Quarterdeck for years.
The cooking philosophy is to let the seafood flavors dominate. Sauces are light to enhance the seafood, with ingredients like ginger, garlic, butter, capers and tamarind. The menu includes some non-fish items like pork and lamb, as well as daily specials. One of Narong's specialties is Thai crispy duck. Whenever possible, the dishes include local and organic produce.
The restaurant is informal and cozy. Warm brick and natural wood give a homey feel to the dining room. It's one of a kind, not part of any chain. Chris is around most of the time, making sure the quality remains high. The seafood comes right from the Quarterdeck market, where brother John selects the fish daily.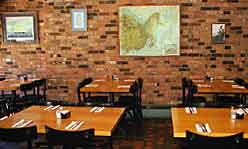 The Quarterdeck serves excellent, affordable California wines, and if you don't want a whole bottle, you can order by the glass. The micro-brewed beers are also a treat. These come from small breweries, many of them in New England. Every few months Chris brings in a new set from different breweries. Here's a few of the local breweries:

Nutfield Brewery, New Hampshire
Tremont Brewery, Boston
Otter Creek Brewery, Vermont
Concord Junction, Concord MA
Ipswich Brewery, Ipswich MA
Catamount Brewery, Vermont
Mill City Brewery, Lowell MA
Magic Hat Brewery, Vermont
Long Trail Brewery, New Hampshire