When you want to entertain a large group or a few people, let the Quarterdeck do the work. We can serve you at your place or ours. If you don't see what you want on the menus, ask about it. We can prepare or mail anything on our Seafood Menu.
Functions
The private function room seats up to 30 people, and the main restaurant seats 100. The Function Menu offers a wide range of choices. We serve family style from an all-inclusive menu. See the Functions Menu for specifics and prices. "Surf on Your Turf" menus are also available for functions at the restaurant.
Surf on Your Turf
We specialize in outdoor seafood, grill and clambake catering. The Surf on Your Turf Menu offers a variety of clam and lobster bakes and other barbecues. We provide everything needed to cook and serve, including the fire and all the cookware, buffet table, paper and plastic dishes and utensils, condiments, and professional buffet service. You can relax and enjoy!
Hors d'Oeuvres
We create hors d'oeuvre plates for all sorts of tastes. Many plates are hearty enough to serve as the center of a buffet dinner. The Hors d'Oeuvres Menu ranges from whole poached salmon to finger food like crab stuffed mushrooms and scallops wrapped in bacon. Choices also include sauces, fresh caviar, and desserts. We put together the plates so all you need to do is place them on your table. And they look great.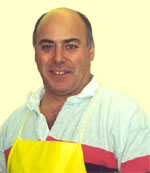 Call Chris Basile
to plan the menu
for your:
- Reunions -
- Birthdays -
- Graduations -
- Celebrations -
- Office Parties -
- Special Clients -
- Holiday Parties -
- Family Gatherings -
- Wedding Rehearsal -